Staff Spotlight
Posted by Peita Crombie on 28 February 2019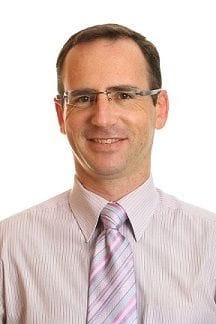 This month we are focussing the spotlight on Mark Williams.
Mark has worked at King & Company for over 24 years managing litigated claims for corporate clients and local governments. As a partner in the Dispute Resolution and Litigation Group, he leads his team with good humour, fostering a relaxed environment whilst maintaining a high standard of work.
Asked why he has stayed with King & Company for so long, Mark replies without hesitation:
"I love the work...but there's also a great culture here. King & Company is family orientated and understanding, without compromising their dedication to the clients. It's a hard balance for many organisations to achieve, and something to be admired...and it's not something you find every day."
Mark spends time working in a number of areas including defending claims against corporate clients for professional negligence, public liability, superannuation and defamation. He enjoys the challenges, tactical decision-making and time constraints that litigation matters present, and he thrives in a high pressure environment.
Born in Cairns to parents from Rockhampton and Yeppoon, Mark is the youngest of three boys. Mark's father was a bank manager whose career involved postings to various locations throughout Queensland. These postings gave Mark's father an appreciation for those locations and communities which he enjoyed sharing with his family, regularly taking them on holiday all over regional Queensland. These experiences created not only lasting memories for Mark, but an inherited connection to those communities.
Mark has also travelled extensively both interstate and overseas and has a great appreciation for other cities and cultures, as well as the experiences they offer.
"When I can, I love to take my kids on holidays overseas, to show them not only the richness of other cultures...but also for them to see the difficulties faced by people living in some of the poorer countries, so they might appreciate how lucky we are to live where we do."
In his spare time, Mark enjoys camping and spending time with his family, as well as dedicating his time in service to our country as a Major in the Army Reserve. Originally joining in 1990, his many years of service in the Army Reserve have strengthened his skills in areas of tactical and operational planning, management and teamwork - skills which are invaluable in a corporate litigation setting. Given that he has also been awarded prizes for tactical planning excellence, and the prestigious Sword of Honour, Mark has been voted throughout the office as the person that no-one wants to play skirmish with (unless they're on his team).
Although modest about his achievements, Mark is well respected amongst peers and clients alike, with appreciation given to his expertise:
"I have dealt with many lawyers over the years and Mark is certainly up there amongst the best. His attention to detail is remarkable, as is his ability to remain calm and objective in stressful circumstances."
"I have been a member of Mark's team for over 17 years and I don't think I could ask for a better boss. Mark has an amazing grasp of complex legal concepts and has always encouraged me to expand my skills providing support and guidance without simply handing me the answer."
"As a client of Mark's for almost 13 years, I have been very happy with the high standard of service he provides. I have recommended him to a number of companies I work with and I always feel confident in giving those recommendations."
In addition to his law degree, Mark is a Fellow of the Australian and New Zealand Institute of Insurance and Finance, and a member of the Australian Insurance Law Association and the Australian Professional Indemnity Group. He also holds a Diploma of Financial Services - General Insurance.
If you need advice on risk management, liability or defamation, email Mark Williams or call (07) 3243 0000.
Author:
Peita Crombie
About: Peita is a paralegal in the firm's Dispute Resolution & Litigation Group.
Jul 14 2020
Why there is usually more to these requests than meets the eye... Highlights One of the considerations for a request to change a...